Carbonless Paper

Carbonless paper from Oji Paper (Thailand) Ltd. is a premium-quality product providing clear-cut and high-density image which sustains over an extended period of time. Carbonless Paper of Oji paper (Thailand) Ltd. is produced under the brand names of




For carbonless Paper the image formation process occurs from colorless dyes contained within microcapsules coated on the back side of the CB paper.
When the CB paper is used with dot matrix printers, typewriters or handwriting; pressure will break microcapsules. Colorless dyes in microcapsules will come out and make chemical reaction with color developer coated on the surface of the CF paper.
There are 3 major types of carbonless paper which are coated back or CB, coated front or CF and coated front & back or CFB. In order to produce CB paper, microcapsules containing pigments are coated at the back side of base paper. As for CF paper, color developers are coated at the front side of base paper. CFB paper is coated by chemicals on both front and back sides.
Carbonless paper from Oji Paper is well accepted and highly trusted by customers in Thailand and more than 50 countries in America, Europe, Australia, Asia and Africa due to its excellent image quality, copying capability and protection of smudge occurrence from normal handling and usage.
Our carbonless paper can be used to generate high-quality image on multiple plies of paper. The image capability is hardly affected by moisture, light, or heat. The developed image hardly fades out, being maintained as original for long time, as far as it is filed and stored under the normal conditions.
Our carbonless paper also realizes remarkable printability, runnability and covertability because of its excellent stiffness and dimensional stability.
The paper retains its appearance, substance and uniformity throughout its length resulting from Oji Paper's unique technological know-how in every working stage.
Image Development Process
Hand writing, typewriter or dot impact printer breaks microcapsules and then colorless dye dissolved by organic oil is transferred to the pigment coating layer with dye acceptor.
Colorless dye is trapped by dye acceptor, and then develops image by electro-reaction process.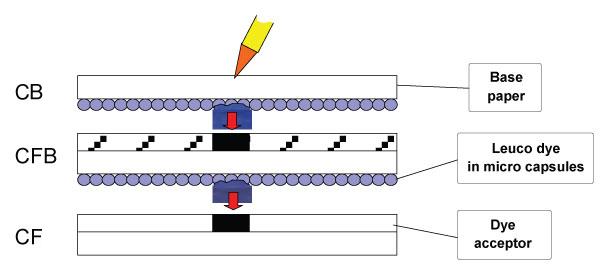 Advantages of "Phoenix" Carbonless Paper
Clear-cut image
High-density, clear-cut characters are copied. Images in blue or black are easy to read.
High sensitivity & copying capability
Phoenix reacts to pressure applied by a ball-point pen or a printer. A single stroke of a ball-point pen permits clear copying on many sheets of forms, exhibiting excellent copying capability.
Long term durability
The developed image of Phoenix is hardly affected by moisture, light or heat under the normal storage conditions.
Brightness and smoothness of the paper
The brightness of the paper is well-harmonized with the sharp image of the characters. In addition, the smoothness of the paper enhances the excellent printing result.
Excellent printability runnability and convertability
Phoenix can realize remarkable printability, runnability and convertability because of its excellent stiffness and dimensional stability derived from excellent quality of base paper.
Complete product lineup
Phoenix is available in both blue and black image, in both roll and sheet form. Based on the substance, the paper ranges from 45 gsm to 158 gsm. Color availability includes white, blue, pink, yellow, cream, green, jade, gold and buff.
Wide Assortment of auxiliary agent
Fanapart adhesive and two types of desensitizing ink—offset and letterpress—are available to suit the desired printing method.
"Phoenix" Product lineup Blue and Black Image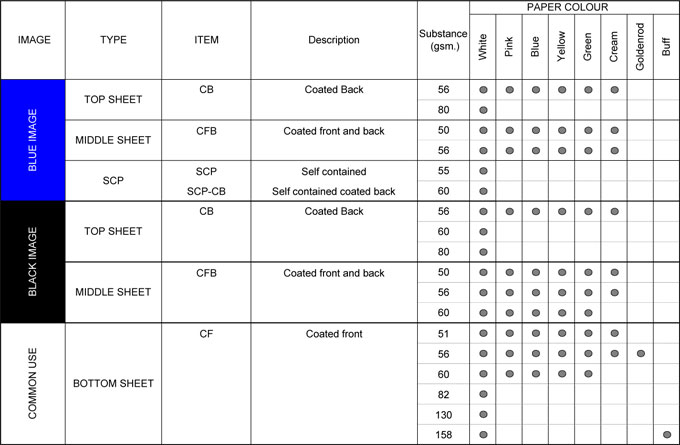 Phoenix Technical Data Sheet
Item
Image
Color
Substance
Basis weight (gsm)
Thickness
(mm)
Smoothness
(Sec/10ml)
Moisture
(%)
Brightness
(%)
Curl
CB
Blue / Black
White / Color
56
56.0 ± 4.0
72 ± 5
70 ± 50
6.8 ± 0.5
≥ 80 / -
Flat~-3
Black
White / Color
60
60.0 ± 4.0
80 ± 5
70 ± 50
6.3 ± 0.5
≥ 80 / -
Flat~-3
Blue
White
80
80.0 ± 4.0
108 ± 6
70 ± 50
6.3 ± 0.5
≥ 80
Flat~-3
Black
White
80
80.0 ± 4.0
105 ± 6
70 ± 50
6.3 ± 0.5
≥ 80
Flat~-3
CFB
Blue & Black
White / Color
50
50.0 ± 4.0
63 ± 5
70 ± 50
6.3 ± 0.5
≥ 80 / -
Flat~-3
Blue & Black
White / Color
56
56.0 ± 4.0
68 ± 5
70 ± 50
6.3 ± 0.5
≥ 80 / -
Flat~-3
Black
White / Color
60
60.0 ± 4.0
74 ± 5
70 ± 50
6.3 ± 0.5
≥ 80 / -
Flat~-3
SCP
Blue
White
55
55.0 ± 4.0
73 ± 5
70 ±  50
6.3 ± 0.5
> 80
Flat~-3
SCP-CB
Blue
White
60
60.0 ± 4.0
79 ± 5
70 ±  50
6.3 ± 0.5
> 80
Flat~-3
CF
White / Color
51
51.0 ± 4.0
64 ± 5
70 ± 50
6.3 ± 0.5
≥ 80 / -
Flat~-3
White / Color
56
56.0 ± 4.0
70 ± 5
70 ± 50
6.3 ± 0.5
≥ 80 / -
Flat~-3
White / Color
60
60.0 ± 4.0
73 ± 5
70 ±  50
6.3 ± 0.5
≥ 80 / -
Flat~-3
White
82
82.0 ± 4.0
102 ± 5
70 ± 50
6.3 ± 0.5
≥ 80
Flat~-3
White
130
125.0 ± 6.0
160 ± 7
70 ± 50
6.3 ± 0.5
≥ 80
Flat~-3
White
158
158.0 ± 6.0
205 ± 7
70 ± 50
6.3 ± 0.5
≥ 80
Flat~-3
Method
TAPPI
410
TAPPI 411
TAPPI
479
TAPPI 412
ISO 2470 (C/2o)